Idaho is home to a variety of outdoor recreation companies and product manufacturers. The access to endless outdoor activities sparks creativity and has led many entrepreneurs and business owners to develop unique products to enhance and improve any adventure. Come along as we meet these companies and learn the stories behind the concept and development of their products.
What started as an off-road vehicle wrap company quickly turned into customized cooler wraps when Laura Hallenberger and Gary Johnson discovered a niche market. By giving customers the ability to turn their generic coolers into an expression of their personalities with custom vinyl wraps, Laura & Gary changed the cooler game forever.
Using the same durable vinyl used for the off-road vehicles, they were able to add a layer of protection to coolers with personalized flare. In 2017, USATuff was selected as the Idaho and Oregon Certified Fabricator for SeaDek, the highest quality EVA material on the market. This certification allowed them to launch their boat decking division as well as a full line of cooler pad tops allowing their customers to create a more comfortable place to sit or stand on their favorite cooler.
Hear from owner Laura Hallenberger below on the story behind their unique products.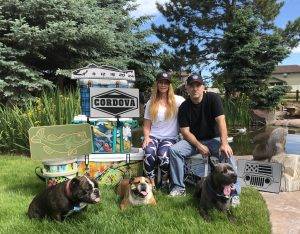 Q. Tell us a little bit about your product – what it is and what it does.
A. "So, we have two divisions at USATuff. One is our cooler accessories division, which focuses on vinyl cooler wraps. The purpose of the wrap is twofold. One, it protects the cooler. So, if you have a more expensive cooler, it provides a layer of protection. The material is extremely thick and durable. You can drop it off the back of your pickup truck and literally nothing happens to the vinyl. It's just really tough. The other purpose of the wrap is to help you personalize your cooler. It helps you to celebrate something that [customers] love in their life. People LOVE to personalize things so we figured why not their favorite cooler too."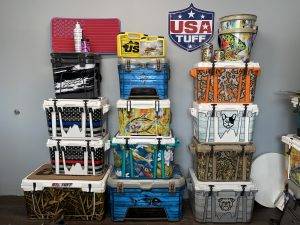 "The cooler pads are another portion of our business. Our cooler pads are made with genuine SeaDek material which is a premium EVA material that goes in the bottom of boats. Again, because we're entrepreneurs and outside-the-box thinkers, we use this material for the top of the cooler. It's actually more functional in that it provides a more comfortable place for you to sit on top of the cooler. A lot of outdoorsmen use it because you can stand on it for traction, use it to measure your next big catch, and it looks cool too."
"The other division is our boat decking services. We install custom decking into the bottoms of most any kind of boat. So, if you have a boat, and you need it to have a more comfortable place to walk and something that doesn't get hot in the sun, SeaDek is what that's built for. SeaDek has been around for 30 years. We're a SeaDek Certified Fabricator. It takes a lot to get into that and be accepted, so, it was a really exciting moment for us. We are the only SeaDek fabricator in Idaho."
Q. What motivated you to create this product? Was there a need or a gap in the market, or did you recognize an opportunity for improvement?
A. "We were originally doing off-road racing vehicle wraps under a different company we used to work for. We did jet skis, snowmobiles, off-road UTVs and other vehicles used for outdoor recreation."
"Because we had the ability to template, pretty much anything, we were thinking, 'Hey, what else might be interesting to put a graphic on?' There was a YETI cooler in the office at that moment, so we said, 'Let's template that!' We put up three different designs and soon found out that there's actually a niche market that we didn't realize existed."
"We basically invented the concept of the cooler wrap back in 2015. Since then, we've had companies piggyback off our idea, of course, but nobody's doing it how we're doing it, which is with this super thick vinyl."
"At first, it was just a whim, and we went with it. Then, we did it as a hobby for about a year. We were living in Las Vegas at the time and then my husband and I decided maybe we should just do this full time. So, he sold his portion of the off-road racing vehicle company to his partner, and we moved back home to Idaho and launched USATuff full-time in 2018. The boat decking piggybacked off that. We had the wraps and we were doing the pad tops with a different generic EVA company. We reached out to SeaDek because they are the best and, just like our vinyl, we want to offer only the best to the customers."
"For us, it's more about service than making a profit… Helping our customers create memories and having them be proud of what we sell to them."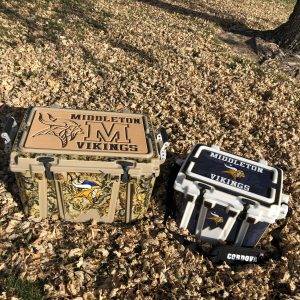 Q. How is your product different than what's on the market?
A. "First off, the quality of the wraps is extremely durable. All other companies use car vinyl which is not good. If you put car vinyl on a cooler, it's not designed for that, it's going to either fall off, or it's going to scratch off. Our adhesive is proprietary, and it's made specifically to adhere to coolers and our thickness is unmatched in the industry."
"We are the only company that provides a high level of customization. We have a design team on staff, and you simply tell us your ideas and we make it happen. We also cover more brands of coolers than everybody else combined. We're currently up to 30 different brands of coolers that we have wraps for."
"Finally, it's really just the family aspect of our business that sets us apart. We're 100% Made in the USA in Idaho. We care about our customers and I think people really appreciate it in a time when customer service seems to be a lost art. When you call, we pick up the phone. We care about every customer that we work with. We value everyone's business. Somebody's spending their hard-earned money to buy something for themselves, and we appreciate it."
Q. From conception to market, how long did it take you to create these products?
A. "Because we'd already had the foundation of the vinyl for the off-road vehicle company, it was just a new template process we had to create. We're constantly developing because every time we have a new cooler brand that we're going to wrap, we have to start from scratch. So, for the template process, it probably takes one to two weeks and there's a lot of test fitting. Then, design layout is maybe a week. Once a cooler is in our lineup, we can turn custom wraps in about three days."
Q. Where's the ideal place or circumstance to use your product?
A. "I don't think there's an ideal place or circumstance because it just applies to every person. We have a strong customer base with people that are patriots. That patriotic customer tends to gravitate toward our wraps, and we have a whole patriotic collection for that very reason. The second group of people is the outdoor hunter because there's functionality to camouflaging. So, if you have on your Kryptek gear and then you have a white cooler, you can camouflage it with one of our wraps. There's functionality there. Then I think a third group is corporate or business customers. We do tons of custom coolers for marketing and promotions. A lot of my business is working with corporate clients who take the coolers to tradeshows, they use them as giveaways on social media or marketing in general."
Q.What's been the most frustrating part of the product journey or any obstacles that either inspired innovation or almost made you quit?
A. "We're always thinking outside the box. When we developed this product, it didn't exist. We're always thinking of what else we can do to serve the customer. If there's a request for something, and we get enough requests for it, then we'll create it. Being a small business owner is just tough in general. We are a luxury item. You don't 'need' to wrap your cooler so we have to create a special kind of 'want' from our customers. I think we really do a good job of providing service to our customers, so they remember us and refer us and want to see us stay in business. We're all in this together. We all work hard. We work seven days a week and being able to support each other in Idaho is important."
For more information about USATuff, visit their company profile. Then, check out all Tested in Idaho's amazing companies that build their products here in Idaho.