Idaho is home to diverse landscapes ranging from forests, mountains and high desert to rivers and lakes, and ranks high in the country for both wilderness acres and navigable miles of whitewater. This access to open and wild spaces not only draws outdoor enthusiasts from all over the world but has also inspired entrepreneurs and existing companies to launch or move their outdoor-recreation businesses to a place where they can develop and test their products in their own backyard. Come along as we meet these companies and learn what makes Idaho so unique and crucial to their business.
Club Ride started in 2008 with the goal of creating biking gear functional enough for a long day on the trails and casual enough for grabbing a burger and beer post-ride. Born with outdoor adventure in mind, Club Ride creates and tests its products right here in Idaho. Read our conversation with owner, Mike Herlinger on why Idaho is the perfect playground for his business.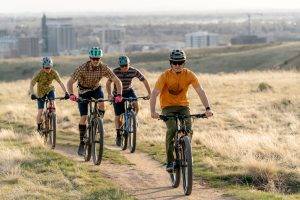 Q: What spurred you to locate your company in Idaho? What characteristics or accessibility to resources factored into your decision to locate here?
A: "I started the company in Idaho. I was living here, and I've been in the Wood River Valley for about 22 years. I started Club Ride in 2008. Basically, it was because of Idaho and the inspiration that the outdoor environment delivers to us. What I was trying to accomplish is to invent or create a clothing line that was able to function for my bike and outdoor lifestyle along with my social life all in one package. Really, the outdoor environment, the social part of being in a ski town, and a common denominator of people loving outdoors and being with friends were a big inspiration and a big assistance to the creation and development of the concept."
Q: Did you consider any other places before choosing Idaho?
A: "No, this was home, and I was in the middle of raising a family at the time… I don't think I would have been able to accomplish what I did in any other place. It definitely has its challenges but with that becomes more inventive and more resourceful as far as what we need to do to run a company here. But, the challenges are just noise to the main part of the business, which is the design and storytelling aspect of the company. Being honest, soulful, and authentic is important when it comes to creating clothing for like-minded individuals. I ride bikes, I have children, I have a house, I run a business and I mow my lawn. I do all these things and I do them all in this clothing concept. I'm trying to allow other people to have that same sort of moment and experience as I do."
Q: Can you talk a little more about how the company got started and where you got the idea for your products?
A: "Originally, I was working in sales, marketing and management but took some time off and was working at an outdoor store in Ketchum. I was, at the time, privy to some really great brands that were in the marketplace. Obviously, the big brands and some of the smaller up-and-coming brands were using really cool technical fabrics. That's where I kind of cut my teeth and was turned onto these outdoor companies that were using stretch woven fabrics and doing a lot with stretch plaids. I was looking at the stuff that was going on in biking and it wasn't the same. I felt like there was some room to grow the bike category. After that, it came down to the fact that I was going to go ride my bike and go have a burger and a beer afterward with a friend. I was wearing the traditional kit in biking at that time. I thought, 'I can't show up at this blue-collar restaurant in this fitted kit concept.' I thought there could be something cooler out there. That was the inspiration. It felt like this type of garment really played into that mentality and lifestyle I was trying to achieve."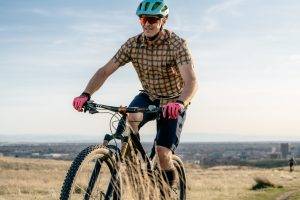 Q: What is your favorite thing about Idaho?
A: "Honestly, it's the ability to have been able to raise my children here. I grew up in California. I left in '84 and went to college in Phoenix, then New Hampshire, then back out here. I've had the experience of being across the country in various places. Just having the breath of fresh air in every capacity of being here has been really a blessing when it came to raising my kids. They have the ability to appreciate certain things that they wouldn't have in other places."
Q: Do you have a favorite place in Idaho that you like to recreate outdoors?
A: "The Wood River Valley is probably the best in my opinion. I've been all over the place but the Wood River Valley is home so it's even more special. I have the ability to say that my backyard is probably the most special place in Idaho. I raised my kids here. I have Red Fish Lake on my weekend doorstep. I also really love the Pioneer Mountains. The Pioneers are just an amazing mountain range that offers class three scrambles and high mountain lakes with zero traffic. I love the ability to get away in a half day."
Q: For visitors who have never been to Idaho, what's one thing that you think they must do or see while visiting the state?
A: "I really think if they have the ability to experience southern Idaho in general, it's probably one of the most diverse environments that I've ever been able to experience. You have high alpine forests and peaks up here… then, you go down to the Bruno's or the Snake River Canyon and it's mind-blowing. We have all these places where you have huge contrasts of cool basalt rock that was pulled up from volcanic eruptions to mountains and canyons all over the place. I think if people can get out to see the Bruno's, that's such an epic visual contrast of things – especially in the springtime when you start getting the wildflowers against these harsh rock environments. It's a magical place."
Q: What is one misconception that people have about Idaho that you find yourself having to correct the most?
A: "There's just so much vastness that is untouchable. Idaho isn't just Boise. There's a spectacular beauty to it that people just don't understand… There's a misconception that it's just farmland."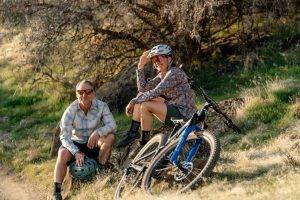 For more information about Club Ride and their biking apparel, visit their company profile. Then check out all Tested in Idaho's amazing companies that test their products here in Idaho.