The days are longer, the nights are warmer and the season for sleeping under the stars is here. Whether you're camping out at one of the many awesome spots in Idaho or venturing out to explore a new state, we've rounded up some of the best gear to keep you comfortable, dry and safe while camping out this year.
River Bed Sleeping Pad | NRS
Unless you like camping out cowboy-style and sleeping right on the ground, a good sleeping pad is an essential piece of camping gear. The River Bed Sleeping Pad from NRS is made so you can sleep basically anywhere, from river rafts to trailside tents. The River Bed Sleeping Pad is made of the same waterproof PVC material as NRS' dry bags and is constructed using polyurethane foam to keep rocks and sticks from poking through while you rest. This compact pad is super easy to carry and store thanks to two cinch straps and its ability to deflate while you roll it up. The River Bed Sleeping Pad is great for those who need a reliable sleeping pad for wherever adventure takes you.
FIX Day Pack | Blacks Creek Guide Gear
If you are the type of person that likes to set up camp then venture out to explore your surroundings, a sturdy day pack is likely on your camping gear list. The FIX Day Pack from Blacks Creek Guide Gear is large enough to fit a day's worth of gear — like food, water and fishing supplies — yet small enough to remain lightweight and agile for short trips. With seven pockets, five compression straps, the ability to attach a sleeping bag on the bottom and the unmatched frame support that Blacks Creek is known for, this bag is ready for seemingly any kind (and length) of adventure.
Sidewinder Insulated Water Bottle | Liquid Hardware
The less gear to pack the better, right? The Sidewinder Insulated Water Bottle by Liquid Hardware has everything you need in a water bottle with the ability to keep liquids hot or cold for hours. This means you can have piping hot campfire coffee in the morning and icy cold water on your hike in the afternoon, all in the same 16 oz. Liquid Hardware bottle.
Raptor Solar Power Charger | Inergy
Inergy's latest and greatest solar device, the Raptor Charger is all you need in a solar charger plus some. Weighing less than two pounds, the Raptor has two 1.5 Watt solar panels and a 24-Watt-hour lithium-ion battery capable of charging a smartphone for two full cycles, a Basecamp LED for 6 hours, a headlamp for 5-8 full charges, 2-way radios for 8 full charges, and a GPS for 6-8 full charges. The Raptor is compact, easy to pack and able to keep your essential electronics charged no matter where you are.
Perception HD 10x42mm Binoculars | Upland Optics
Put these sweet binos in your camp gear and you'll never miss out on seeing the monster elk across the lake, expertly scouting your next trail or catching a glimpse of those pretty peaks in the distance. The Perception HD Binoculars are made with ED glass to give you a crystal clear view of far away distances and are lightweight, waterproof and fog proof. Designed with the hunter in mind, these binos are tested and ready for any kind of outdoor adventure.
Chama Merino Hoody | First Lite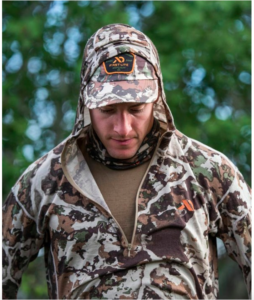 Known as one of the best base layers on the market, the Chama Merino Hoody from First Lite is a must for camping clothes. Made of 230g Merino fabric, this first or second layer is designed to keep you comfortable in cold and hot weather and wicks sweat to keep you odor-free during any season. Made for men and women, the Chama Hoody is essential for those crisp camp mornings and brisk alpine hikes.