Rodeo is one of the oldest Western American sports alive today, with Idaho's oldest rodeo being over 100 years old.
To this day, rodeo is celebrated widely across the U.S. So, we sat down with some Idaho cowgirls and a cowboy to give you an inside look at the athletes behind the rodeo.
Rainy Robinson is a barrel racer from Caldwell, Idaho. She usually competes in around 25 rodeos a year. Roscoe Jarboe is a bull rider from New Plymouth seated 25 in the world. Finally, Sydney Butler from Boise is the former Miss Rodeo Idaho 2018. From California to Florida, this girl attended over 60 rodeos during the year she held her title.
Rodeo is a sport that takes immense amounts of dedication and practice. No one climbs on the back of a bull for the first time and expects to hang on for one second, let alone eight.
These aren't the only lessons to be learned from rodeo, however. Sydney Butler says, "It's true, Miss Rodeo Idaho comes with a beautiful, sparkling crown, but at the end of the day, it's a job, and as an 'employee,' it was always my responsibility to uphold and represent the values of the Miss Rodeo Idaho program and the western way of life as a whole… As the state titleholder, I was not just responsible for myself, I was now responsible for representing the people and rodeos of the Gem State, the Professional Rodeo Cowboys Association, and your sponsors to the best of my ability no matter what time of day it was."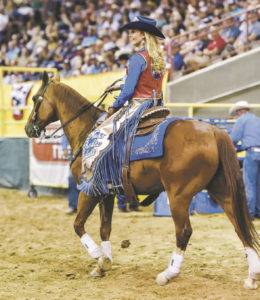 For Roscoe Jarboe, rodeo has taught him the value of a dollar and time. He says, "One thing about rodeo that most people don't always know I would have to say are our expenses and dedication. Though it may seem we live a life of leisure, rodeo is a very expensive job… And the time we put into being the best we can will never end."
Though they travel all over the nation for rodeos each year, these cowgirls and cowboy are Idahoans at heart. When asked what their favorite thing bout living in Idaho was, they all tied it back to the land and the people.
"It's absolutely amazing that all of us here in Idaho are fortunate to have access to some of the best hiking, rafting, skiing, etc. right outside our back door. There's something for everyone here whether you're looking for a riverside walk, a Class V rapid, or one of the nation's top rodeos, adventure and breathtaking views are always around the corner in Idaho," Butler said."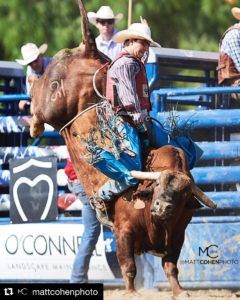 "My favorite thing about living here in Idaho would have to be the land, we have everything you want from trees to mountains and deserts. Not many other states have what we have, we have it pretty good here," Jarboe said.
"After living in Texas the last four years for college, you really appreciate Idaho. The weather, the people and Caldwell, Idaho is a great place to rodeo out of during the summer because it's pretty central to a lot of the big rodeos," Robinson said.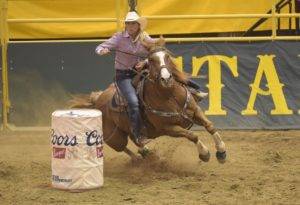 In honor of Rodeo Week, these folks also shared with us their favorite Idaho rodeos and events. Rainy and Sydney are fans of both the Snake River Stampede and, of course, Caldwell Night Rodeo, taking place this week. Roscoe tells us that, besides bull riding and saddle bronc riding, his favorite rodeo event is barrel racing.
"Us bull riders stand behind the chutes getting ready to ride our bulls and watch the barrel racing and I never realized how much effort and riding it really took to do what a barrel racer does and they honestly pump me up before I have to get on my bull," Jarboe said.
Underneath the boots and spurs, these athletes are Idahoans at heart.
Sydney grew up in Downtown Boise and fights the common misconception that rodeo queens have to be from farms and ranches in rural areas.
I had the unique opportunity to share rodeo with a huge urban audience that otherwise knew nothing of the sport," Butler said. Outside of rodeo, you can catch Rainy coaching the freshman girls' basketball team at Vallivue High School.
Every rodeo is unique in its own way. No two rodeos are ever the same. As Jarboe says, "every time I nod my head, anything could happen."
Don't miss one of Idaho's favorite sporting events or a chance to see one of these cowgirls and cowboy do what they do best. Caldwell Night Rodeo is this week, with championships happening over the weekend. Find your spot in either of the "Civvies" or "Rowdies" sections of the stands.
Stay tuned to Tested in Idaho's Instagram as we will be announcing an awesome giveaway from Tiffany Glove company.
Jarboe raves about the brand saying, "I choose to use them (Tiffany Gloves) because they come ready to go, they are great people only out there to help us perform to the best of our ability with the best glove on our hand. They trace your hand to make your glove just for you and do an excellent job of making a fine glove. By far the best gloves in the business."