Idaho is home to a variety of outdoor recreation companies and product manufacturers. The access to endless outdoor activities sparks creativity and has led many entrepreneurs and business owners to develop unique products to enhance and improve any adventure. Come along as we meet these companies and learn the stories behind the concept and development of their products.
Hear from the owner of Überleben, Tim Garcia about the creativity that sparked the concept of his bushcraft tools for the modern mountain man or woman.
Q: Tell us about your product. What is it? What does it do?
A: "There's something that resonates innately true about the art of creating fire, and everything that goes along with it. Heading into the woods alone, building a fire, brewing, coffee, cooking a meal – Überleben designs products to facilitate that meditative experience."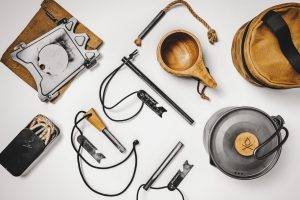 Q: What motivated you to create this product? Was there a need or gap in the market? Did you recognize an opportunity for improvement on other products? Was it inspired by a particular location in Idaho?
A: "Our focus is modern fire craft. Mixing modern design with traditional elements. You generally have two mindsets in the outdoors: technical (modern), or primitive (traditional). We believe fire is non-exclusive."
Q: How is your product different from what was/is on the market?
A: "Aside from beautiful aesthetics, Überleben products are robust, and actually made for use. Similar products are intended to be used solely for emergency situations. Our products are not for storing away but designed for regular use. The brand is more lifestyle centric than survival-focused."
Q: How long did it take to create your product?
A: "Our first product was the Zünden Fire Starter. It's definitely gone through some improvements over the years, but the first version only took a few months to bring to market. We have some new products in the works that we'll easily have a year invested in design and development prior to production."
Q: Where is the ideal place/circumstance to use your product?
A: "Outdoors. The normal use case is someone is intentionally jaunting into the woods for a short period of alone time, to make coffee or cook a meal before heading back to modern life."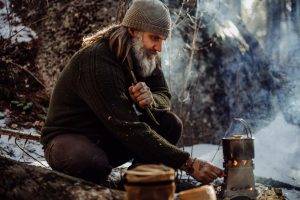 Q: Where in Idaho did you test your product?
A: "All product is tested in north Idaho. Our new HQ is located just north of Bonners Ferry, Idaho."
Q: What's been the most frustrating part of the product journey, the obstacle that either inspired innovation or almost made you quit?
A: "Seeing Überleben product knockoffs flooding the marketplace can get frustrating. Often times they'll even steal our product photography, and photoshop their brand onto our product. However, I suppose imitations the sincerest form of flattery."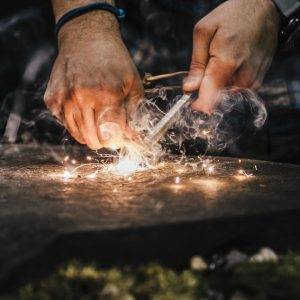 Q: Tell us about the moment you knew you were onto something others needed.
A: "Generally speaking, if there's something you'd like to see, there are usually others who'd agree. People don't need Überleben products, they want them."
For more information about Überleben, visit their company profile. Then, check out all of Tested in Idaho's amazing companies that build their products here in Idaho.