As self-proclaimed "outdoor junkies," founders Jeff and Julie Streeter were trying to think of new ways to get their children engaged in their favorite outdoor pursuits, especially while they were young. The couple has always been lovers of the outdoors, whether skiing, hunting, camping or water sports, but found it challenging to do some of the activities they enjoy most with their children.
The idea for Lucky Bums was sparked after a day skiing at Brundage Mountain in McCall, Idaho. Jeff, an engineer by trade, had rigged up a harness system to help teach his two year old son how to ski. After countless comments from fellow skiers, two themes emerged: those kids are so lucky and they are going to be ski bums. Thus, Lucky Bums was born. Now Lucky Bums makes a diverse line of outdoor gear and apparel products designed for children and active families.
By their second kid, Jeff and Julie had optimized the ski harness and began creating more products for all kinds of outdoor activities. From snow sports to camping, water sports to hunting, Lucky Bums now offers all the gear any parent would need to keep kids happy, dry and warm while having fun the great outdoors. While always thinking about making better products, Lucky Bums is focused on delivering the most value possible for families who want high-quality products that will last multiple adventures for multiple kids.
Located in Boise, Idaho, Lucky Bums is close to lakes, ski and snow recreation areas, and many family-friendly campgrounds. Living in Idaho has allowed Jeff and Julie to develop the foundation of their business and to test out their products as they go on family adventures. With the mission to allow families to "grow outside together," Lucky Bums has been happy to fulfill this mission as a family. As an outdoor-loving, family-run company, Lucky Bums is excited to be Tested in Idaho.
FEATURED PRODUCTS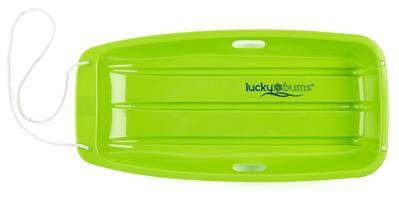 LUCKY BUMS SNOW KIDS TOBOGGAN SLED
The Lucky Bums Snow Kids Toboggan Sled is guaranteed to provide hours of fun. Everyone will want to be outside playing with this sled! This classic plastic sled has built-in handles for your child to grip when the slope gets steep and the speed picks up. Grips are smooth so they won't cut or scrape uncovered hands. Strong and durable, this plastic sled is also includes a tow rope so you can easily haul it back to the top of the hill or transport your winter cargo. This slider sled is recommended for kids ages 3 to 15.
PRODUCT DETAILS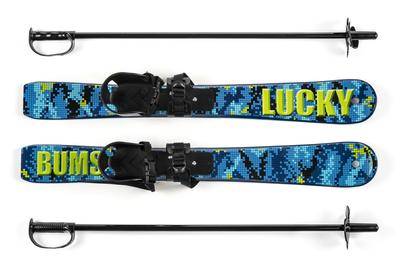 LUCKY BUMS TODDLER KIDS BEGINNER SNOW SKIS AND POLES SET
The Lucky Bums Kids Beginner Snow Skis & Poles set is the ideal introduction to skiing for those 4 and under. With a rugged design including flexible bindings, scales on the bottom of the skis, and attached straps to ensure a secure fit, these 70cm plastic skis enable kids to get used to wearing skis in the snow and an introduction to the sliding sensation. The bindings allow for heel lift making these plastic skis with no metal edges the ideal first pair of skis for kids just learning to walk all the way up to 4 years old.
PRODUCT DETAILS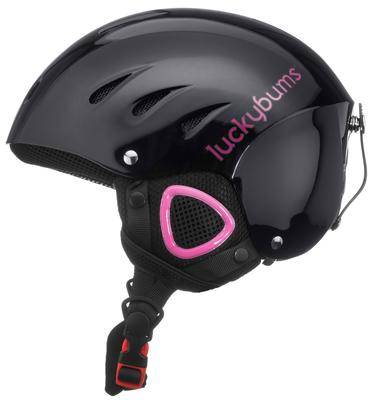 LUCKY BUMS SNOW MULTI SPORT HELMET
The Lucky Bums Sports Helmet is everything you want in a helmet at an affordable price. It's comfortable, stylish, durable, and most of all, functional. It features two protective layers, a padded chin strap, and goggle loop. Available in four sizes and a wide variety of colors, you're sure to find the right fit for you. This helmet has two reinforced layers. The external cap is made from strong ABS material, which is covered by a supporting EPS outer shell for dual protection. This helmet fully complies with EN1077 standards and is CE certified. There's more than meets the eyes with the Lucky Bums Snow Sports Helmet. Inside, the internal fabric lining and ear padding include a hypoallergenic and antibacterial treatment while the ESP inner shell features multi-port with mesh screens to allow for ample airflow. In addition to being vented and hypoallergenic, this helmet is comfortable to wear all day long. Its padded chin strap and integrated goggle loop enhance comfort and function. There are 4 sizes to choose from and each helmet includes a micro adjustable strap for the perfect fit for just about anyone. We know how upsetting it is to have your day spoiled by seemly, uncomfortable, and undependable gear. That's why we created Lucky Bums. We believe in our quality and put our money where our mouth is. Each helmet comes with Manufacturer's Limited Lifetime Warranty, which protects against defects in materials or workmanship. Look good, feel good, be protected.
PRODUCT DETAILS