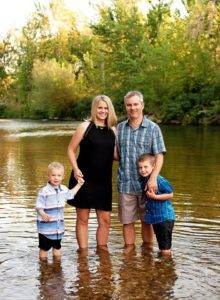 One year ago, Tested in Idaho went from being a vision to the real deal. For those not yet familiar with the program – Tested in Idaho recognizes Idaho-based outdoor recreation companies that test their products in the mountains and rivers in their backyard before bringing them to market.
Many of us at Idaho Commerce get to meet with business owners while our travels around the state. We started to recognize a theme when meeting with owners of outdoor gear companies: access to outdoor recreation played a role in choosing to run their business and raise their family in Idaho.
We were meeting avid hunters, hikers, mountain bikers, and kayakers that had all started their business with a bright idea and a passion for adventure. To top it all off, we noticed that not only were these folks creating and selling nationally-recognized outdoor gear, they were taking their gear to the mountains and rivers and trying it out for themselves before putting it on the market. It was part of the process. They all operate with the mindset of "if it can get the job done out in the Idaho backcountry, it can get the job done anywhere."
Idaho is rugged. There is more land occupied by national forests than any other state and the most miles of white water in the lower 48. Most people that live here know that. When you think about it, it isn't all that surprising that hardcore outdoor companies are based here. But the stories behind these companies, the different ways they make sure their gear is the best possible, and the passion they have for places around them are just too cool to not share. This is how Tested in Idaho came to be.
Outdoor recreation is a big deal in Idaho, for personal enjoyment and for our economy. A recent report from the Outdoor Industry Association found that nearly 80 percent of Idaho residents enjoy some sort of outdoor recreation each year, which has created 78,000 jobs and generated $2.3 billion in wages and salaries across the state. Additionally, Idahoans spend $7.8 billion on outdoor recreation annually, generating $447 million in state and local tax revenue.
In Tested in Idaho's first year, we discovered 32 companies with gear that's being Tested in Idaho. There are ski makers in Driggs and Victor, custom jet boat makers in Lewiston, and power sport equipment designers in Cocollala. The creators of SUP boards, kayaks and rafts are in Eagle, Meridian, and Moscow and several life-long hunters are making incredible packs, apparel and knives in Boise, Nampa, Eagle, Ketchum, and McCall. There is a custom tarp designer in Arco and over in Pocatello, solar-powered chargers for the backcountry and custom chalk bags for climbers are being built every day. There are fly fishing rods made in Driggs and stainless-steel drinkware made in Victor. One-of-a-kind wool beanies and fly fishing reels are created in Hailey. Some of the finest women's workout apparel and some of the best cycling apparel around are both coming from Ketchum.
There are many smart, savvy Idahoans doing amazing things in the outdoor industry. We know there are still many people to meet, places to explore, gear to test and stories to share. Myself and the rest of the Tested in Idaho team want to see where you build your gear and we'd love to discover the places you take it out for testing. We want to walk (or hike or bike or raft or fish) a mile in your boots and we'll definitely want a selfie with you before the day is done.
We're on the road often and looking forward to meeting you. Get in touch with Eric or Matt if you know of another company we should bring into the Tested in Idaho program, or have ideas or questions about what's next. Thank you for creating world-class outdoor products and, above all, for doing business in Idaho!
Bobbi-Jo Meuleman is the Director of Idaho Commerce. She grew up on a ranch in Northern Montana barreling on a horse named Chewy. Today, she and her husband, Patrick, have two boys (with a pony of their own named Bandit) who enjoy skiing some of the best slopes in the nation, spending summers splashing in Payette Lake, riding horses and exploring under the Idaho pines.