Rodeo Week – Tiffany Glove Co. Giveaway 8/15/2019 in Uncategorized
Rodeo Week is well under way and we're loving every minute. To celebrate in true Tested in Idaho fashion, we've got a giveaway for you! Tested in Idaho company, Tiffany Glove Co., would like to give away a gift certificate for one standard pair of handmade deerskin gloves! Tiffany Gloves are not only worn by 90% of PBR riders, but are also loved by motorcycle riders and outdoor workers. These gloves hold up against the toughest jobs. Entering the giveaway is as easy as 1, 2, 3! See below for additional details.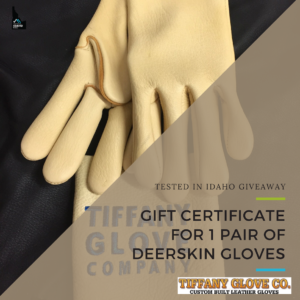 Like the @testedinidaho giveaway post
Follow @testedinidaho
Tag 3 friends in the comments and use the #testedinidahogiveaway
GIVEAWAY ENDS AT MIDNIGHT ON AUGUST 18TH!
To enter, you must be 18+ and an Idaho resident. To see a full list of regulations, click here.